Top 6 developed MTB trails in Lyngseidet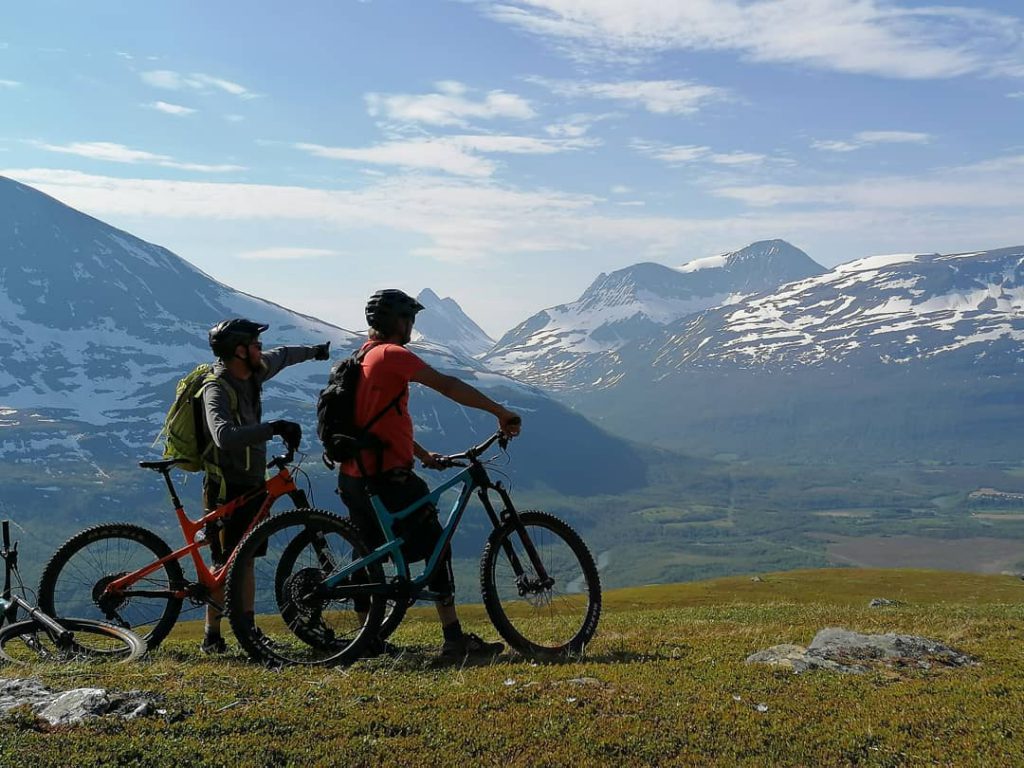 Let us guide you to the best trails
Welcome to the great trails and to our service-spot Lyngen Trail Center right at the MML parking. Near us you will find developed singletracks. Pass streams and waterfalls in beautiful birchforests or head up to the views over fjord and mountainpeaks. Our tips: Rent a fullsuspension bike, book the sauna and prepare to spend at least three days to get most out of the area.
Top 6 mountainbike trails in Lyngen
1. Gullruta
Classic natural trail with tons of flow, but still with a few techy sections. Head up Traktorveien at house 52 just 5 min from MML. After gaining some hight the trail starts flat at 275 m and increase in speed and difficulty. Ends close to the hydropowerplant on Vartoveien where you have a lot of options for more trails. 1.9 km, 236 m of descent
2. Banana & Jumpline
These handbuilt singleracks are often the start since you pass it on you way up Traktorveien and is just to tempting to pass. Rollecoaster, berms, jumps and an optional 3 m drop makes you wanna ride it over and over. Easy to do laps going up to 320 traverse and Banana Hill. Approx 100 m in vertical together.
3. Edge of Heaven
Perhaps the most beautiful setting of the forest trails this beauty follows the river of Tverrelva. What used to be a love or hate now offers most love after having improved landings and ways around the three 1.5 m drops. Despite being just 686 meters long this trail will make you work! Try reaching the trailhead via Majken Up and Helmersen for a challange uphill ride with the eMTB (or legs of steel).
4. Dead Dolly
Enter the dark spruce forest for a shaped ride on the needles. Three years of hard work continues to make this crafted masterpiece ready coming years, but still offers a great deal of fun, not the least due to multiple rollers and berms. 961 meters between Traktorveien at 220 m all the way down to the road.
5.